SCDiet.net
Pictures of Elaine/Videos/Tributes for Elaine August 18, 1921/September 5th, 2005‏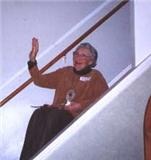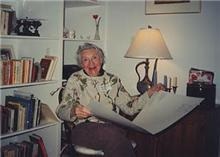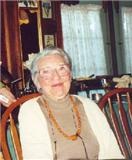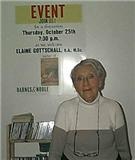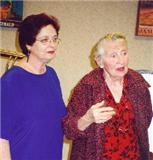 Elaine's Story in pictures & Video:
Pictures of Elaine in UK: see slide pictures above
Upper Canada Lower Bowel Society Fun With Elaine
Lamb Pizza, Lamb Stew, Chicken and Apple Salad, Lick the Bowl Clean Lemon Spread,
Candied Orange Peel
Managemenet of Celiac Diseae by Dr. Sidney V. Haas and Dr. Merrill P. Haas
Hear Elaine speaking on the Dini Petti show on CFRB radio. Click Here.
Elaine On Autism One Radio : Brain / Gut / Food Connection: The Specific Carbohydrate Diet Listen here
The DAN conference April 2004
Lucy and Elaine at the Autism One conference June 2004 Pictured together.

Elaine writes:I must tell you this story. Judy had been on the diet over 7 years and because Dr. Haas had died at age 94, I had no one to ask when to get her off. Our whole family was eating this way and we loved it (Mom didn't like getting up at the wee hours to make all the stuff but it was a must).When it
was time for her to go to college, we bought her a fridge for her room and the plans were that she would eat the legals in the cafeteria and fill the fridge with cheese, etc. and stay on it. After a week, Judy called and told me that they were keeping her so busy there was not able to shop. She said
she would try to eat the cafeteria food and watch out carefully. Now, remember, she had been symptom-free from from UC for 7 years, had grown up as a healthy, tall (she made up for 3 years of non-growth after the SCD) and absolutely perfect. A year later, she told me what happened and I do not
have an answer for you. She had taken one tablespoon of rice from the cafeteria buffet and within 24 hours there was blood in the toilet. She waited a week and tried another tablespoon of rice and the same thing happened. Now, years later (about 30years later) she eats most things - a
potato once or twice a week, some bread but she will not touch rice!!! HealingCrow

On
http://www.scdiet.net/
Elaine talks about her life and SCD. Includes comments by her daughter Judy and excerpts of Elaine speaking at various conferences . This video was produced by Stan Kurtz, he presented it to the DAN Conference in California October 29th 2005.
Click here to view the video
Elaine's Guest Book: MacCoubrey Funeral Home in Canada
Lots to read here....
Elaine Gottschall
- Peacefully in
Cobourg, Ontario, Canada, on September 5, 2005.
Biochemist/Author of Breaking the Vicious Cycle (first released as Food and the Gut Reaction in 1987), which has sold over one million copies in seven languages. Predeceased by her beloved
husband, Herbert;
survived by her daughters
Joan Gottschall of Chicago
,
Illinois
;
Judy Herod and her husband, Stew
, and
grandchildren Matthew and Meg Herod
of
Roseneath, Ontario
. She will be missed by dear friends and countless others whose health and lives have been restored by her life's work on the relationship between intestinal health and food. Visitation will be held at the MacCoubrey Funeral Home, 30 King St. E., Cobourg, on Friday, September 9 from 7 – 9 p.m. A Service of Remembrance at the Funeral Home Chapel will take place on Saturday, September 10 at 11 a.m. Interment will follow at Heritage Cemetery of St. Peter, Cobourg.
Tax-exempt donations may be made in Elaine's memory
, care of MacCoubrey Funeral Home, to the Elaine and Herbert Gottschall Foundation (dedicated to carrying on Elaine's work) or the Palliative Care Unit of Northumberland Hills Hospital. Condolences received at
www.maccoubrey.com
.
(905) 372-5132.
A Great New Autism Website - Feb 6, '07


The Gottschall Autism Center
in NJ Its aim is to partners with families to provide children and adults with optimal health interventions, support services, educational enrichment, and employment opportunities.
http://gottschallcenter.com/?page_id=58
Help the Gottschall Autism Center grow!
Make a tax-deductible donation to the Gottschall Autism Center
Donate
http://gottschallcenter.com/?page_id=13
Elaine's Daughter Judy and her husband Stew will continue with Elaine's work and the book will be available from Kirkton Press as it always has. Email address in BTVC by Elaine G. Gottschall on the back page of the book.
New webmaster taking care of the Breaking the Vicious Cycle website!
I am in the process of updating everything as I find time. Please send all questions,
Elaine Gottschall's Grandson
It has been quite a ride:
"Mother Cyle Momma". "The Eagle has landed". "Roll out the Red Carpet".
Missing and remembering her every time I cook and staying healthy.