The following products have earned The Healing Crow's Caw of Approval. If you purchase the books or products from our sponsors , proceeds will go towards The Healing Crow. This is a great way to support our efforts. We are also seeking donations.
Books:
The S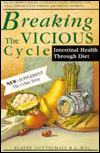 pecific Carbohydrate Diet
Breaking the Vicious Cycle: Intestinal Health through Diet written by Elaine Gottschall. This is a must read for anyone with Crohn's disease, Ulcerative Colitis, Intestinal Bowel Disorder, celiac disease, or any other digestive disorder. We have an overview of the diet here.
Paleolithic Diets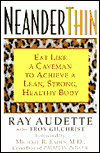 Neanderthin : Eat like a Caveman to Achieve a Lean, Strong, Healthy Body written by Ray V. Audette and Troy Gilchrist. The book summarizes Ray's health discoveries while dealing with Rheumatoid Arthritis and Diabetes. It explains why a stone age diet is healthy and is essential in treating "modern" illnesses. The authors have strong feelings about chronic illnesses and modern foods and can be quite humorous at times. The book also contains recipes and advice about eating a caveman diet in the modern world.

Protein Power LifePlan by the Eades. A great overview of the paleolithic diet. The book has an excellent section on magnesium and cholesterol analysis.
Nourishing Traditions: The Cookbook that Challenges Politically Correct Nutrition and the Diet Dictocrats by Sally Fallon and Dr. Mary G. Enig. This book has wonderful recipes that are grounded in the roots of solid nutrition.

The Carnitine Miracle written by Robert Crayhon. The book includes a step by step plan (with recipes) to incorporate optimum nutrition into our daily lives by eating a Paleolithic diet. Much of the book deals with the benefits of eating a diet high in carnitine.

Low Carbohydrate Diets

Dr. Atkins' New Diet Revolution written by world reknown cardiologist, Robert C. Atkins, MD. The book is full of scientfic references useful for anyone interested in human nutrition.

The Cholesterol Myths: Exposing the Fallacy That Cholesterol and Saturated Fat Cause Heart Disease by Uffe Ravnskov. Anyone who is considering taking medications for cholesterol needs to read this.The Schwarzbein Principle: The Truth about Losing Weight, Being Healthy and Feeling Younger by Diana Schwarzbein and Nancy Deville. Anyone suffering from Diabetes should have this book as a reference. To read more about Dr. Schwarzbein's treatment, click here. Epilepsy Diet Treatment: An Introduction to the Ketogenic Diet written by John M. Freeman, Millicent T. Kelly, and Jennifer B. Freeman.

Low Carb Cookbook: Complete Guide to the Healthy Low Carbohydrate Lifestyle by Frances McCullough. A great resource for low carb dieters with a plethora of delicious recipes.

Other Topics:

Taking Charge of Your Fertility: Taking Charge of Your Fertility: The Definitive Guide to Natural Birth Control and Pregnancy Achievement by Toni Weschler. Do you feel out of sync with the female body? Do oral contraceptives have you feeling blue? Are you looking for a nondrug way to prevent pregnancy? Or are you looking for a method to increase your fertility? If the answer to any of these questions is yes, we highly recommend Toni's book. It is the best book we've read on this subject. The book offers an informative approach to fertility, called the Fertility Awareness Method, that is safe, effective, and interesting.

Dr. Atkins' Vita-Nutrient Solution: Nature's Answer to Drugs by Dr. Robert C. Atkins. An excellent book for anyone interested in treating disease with nutrition. Every "radical" statement Dr. Atkins makes is backed up by a scientific study. The only drawback is that Dr. Atkins doesn't have enough books to recommend.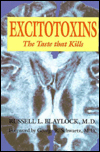 EXCITOTOXINS: The Taste That Kills written by Russell L. Blaylock, MD. The book goes into great detail about the food additives MSG and aspartame and their devastating effect on the brain. You'll never touch a diet soda after reading this one! What Your Doctor May Not Tell You about Fibromyalgia: The Revolutionary Treatment That Can Reverse the Disease by Claudia Craig Marek and R. Paul St Amand. This book is a must read for anyone suffering from a thyroid problem, hypoglycemia, or Fibromylagia. An excellent resource.Your Drug May Be Your Problem; How and Why to Stop Taking Psychiatric Drugs written by Dr. Peter R. Breggin and Dr. David Cohen. The book details the nasty side effects of psychiatric drugs and gives steps to remove them from your treatment.

Brain Lock: Free Yourself from Obsessive-Compulsive Disorder written by Jeffrey M. Schwartz amd Beverly Beyette.Sugar Blues written by William Duffy. This little gem of a book gives a detailed history of sugar. You'll think twice about eating another sweet after reading this.

How to Live Longer and Feel Better by Linus Pauling and TD Freeman. This book contains a wealth of scientific knowledge from Nobel Prize winner Linus Pauling in simple, easy to understand words.

The Second Brain: The Scientific Basis of Gut Instinct and a Groundbreaking New Understanding: of Nervous Disorders of the Stomach and Intestine written by Dr. Michael D. Gershon.

The Omega Plan and The Omega Diet written by Artemis P. Simopoulos and Jo Robinson. These books have a wealth of information about essential fatty acids (i.e. their importance, how to include them in your diet, and how they influence health).

Stop Obsessing!: How to Overcome Your Obsessions and Compulsions written by Edna B. Foa and Reid Wilson.

Products:

Foods

Eggs from well-treated chickens! The Country Hen provides eggs from uncaged chickens fed a more natural diet. The results are eggs with higher omega-3's and better nutrients. You can order right from their website, but it is a bit pricey. However, they can be purchased at many major grocery store chains.Eat Wild! Locally produced meats from grass grazed animals! Find a farm in your neck of the woods.